Subscribe to Mable news
Sign up to have the latest news, articles and resources delivered to your inbox.
Subscribe
15 January 2021
Last updated 27 March, 2023
It's 2021 and there's a lot of opportunity out there! No matter our age, it's important to always keep on learning. Acquiring new skills keeps us mentally sharp which is key as we get older. Not only that, but learning is fun and rewarding, fights boredom, improves memory and gives us pleasure.
So let's take a look at some new skills you could be chasing in 2021.
Let's get technical
As a Mable customer, you're likely already familiar with the Internet and/or a smartphone but there's still a colossal amount to learn. Older Aussies are signing up for IT classes all over the country to gain skills like staying safe online, making a photo book, using Microsoft Excel and even how to build a website. Melbourne organisation, IT and Coffee offers Personal Technology Training (PTT) sessions, all run online for just $10 each. Learn how to use Zoom, organise all those photos you have on your smartphone and discover how to use Gumtree to buy and sell items.
And don't forget, there are lots of independent support workers on the Mable platform who can teach you these skills. Some might be in your local area and others could connect with you via Mable's video chat feature to provide virtual support. If there's something specific you want to learn about computers, smartphones or using the Internet, post a job ad and outline what you're seeking. Here's an example that you can post to find someone to support you in this goal. Simply copy/paste into your job ad, change the details to suit and add any other information you feel is important.
"Hi, my name is Barbara. I want to learn how to get my photos from my iPhone onto my computer and then sort them into folders. I'm looking for a support worker who has these skills and also the patience to explain everything really easily to me."
Flex your brain power with games
Supposing you want to learn chess because you watched Queen's Gambit and it intrigued you. Or imagine being able to beat your personal best at sudoku. Support workers on the Mable platform are a clever gang. Browse the profiles and you'll find some interesting people, some who play chess, some who are crossword experts and others who are wizards at sudoku.
Using your brain for complex tasks is healthy so don't miss out on these fun activities just because you've never learned how to do them.
Sign up for lawn bowls
Lawn bowls is a really healthy pursuit because it combines gentle exercise with improved coordination, boosted self-esteem and an outlet to make new friends. They say it takes one session to learn but a lifetime to master so be prepared to be challenged.
Post a job ad to find someone who can teach you how to play. Simply copy/paste the following into your job post and alter as you need to:
"Hello, my name is Bill and I'm looking for someone to teach me how to play lawn bowls. I also need transport to get me to and from the club once a week and some companionship the first two or three times because I don't know anyone there yet."
Learn to swim
Swimming is excellent for improving blood circulation, increasing fitness, regaining flexibility and range of motion, and relieving pain. It helps strengthen core muscles which are necessary to keep the body stable and reduce the risk of falls and it's been known to be excellent for helping people to sleep better!
Because swimming is a low-impact form of exercise, it doesn't add weight or pressure to your joints and muscles and in fact, it does the opposite. You could engage a support worker to take you along to your swim classes.
Create your own blog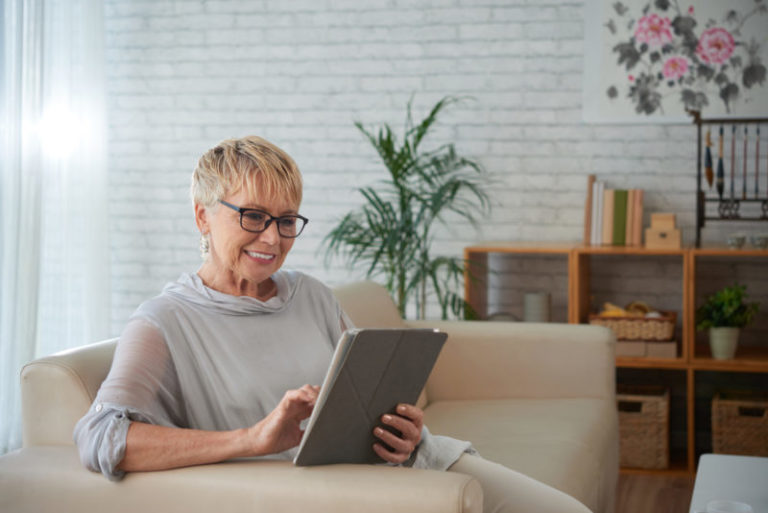 Tell the world about your life, your experiences, where you live (not your actual address, of course!) and what you love. A blog is like an online journal that you write and upload with photos and people from all over the world can read it. Setting one up can be a bit tricky if you've never done it before but you'll be able to find a support worker on Mable who can show you the ropes.
You can even allow other readers to comment on your blog posts which can be a lovely way of 'meeting' people (if only virtually) and exchanging ideas. Plus it could be a nice way for interstate or international family and friends to know what's going on in your life.
Teach your old dog new tricks
Or your young one! Imagine getting out in the backyard and putting your pup through its paces. Dog training is fun and tends to teach both human and animal a thing or two about discipline. It doesn't have to be about correcting a 'naughty' dog or any negative behaviours. It can literally be about teaching your dog to do tricks, something you'll both have a wonderful time doing. It's good for the soul, the brain and the body and it's definitely a skill you'll find rewarding.
Post a job on Mable to find a support worker who loves dogs as much as you do. Simply copy/paste the following into your job post and make any relevant changes:
"Hello, my name is Theresa and I have a playful, two-year-old border collie named Mickey who has too much energy and I'd like to spend some quality time with him. I'm looking for a support worker who loves dogs and is experienced in training them so we can teach him some fun tricks and maybe tire him out a little!"
What other skills would you like to learn?
Learn a new language.
Learn how to knit, sew, upholster or make a quilt.
How to trace your family tree.
How to research a favourite topic on the Internet or at the library.
Painting, pottery, drawing or sculpture.
How to start a microbusiness.
Take acting classes.
How to finally write that novel.
How to sell your crafts online.
Origami (the art of paper folding), ikebana (flower arranging) or bonsai (crafting miniature trees).
Remember, whatever you want to learn, you're sure to find a support worker on Mable who can either teach you themselves or guide you towards a course, a lesson or a session.